First of all, WOW. I am so grateful to my new followers and so many new viewers of my blog!! Thank you for stopping by, commenting, etc. It makes a girl feel good! I officially have two days of school left! Then it's on to defending my honors for my degree, and I will be homeward bound!
Now, on to the good news. I am HONORED and DELIGHTED to have received the One Lovely Blog Award by
3rd Grade's A Charm
! Thank you to Jackie for giving it to me! The rules of this award are:
1. Follow the person who gave you the award....check!
2. Tell your readers about the bloggers who gave you the award....check!
3. Pass the award on to 15 other bloggers....that will be my next post!
Look out for my next post- I will be announcing my 15 lovely blogs! Maybe YOU will be one!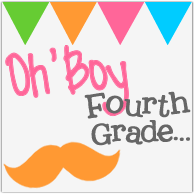 I always LOVE linking up with
Farley
for her Currently linky party! Here is my June Currently:
I wish I could go travel Europe, including Paris and Rome! I went on a missions trip to Africa last summer- that is literally the last place I've traveled to, besides going back and forth between Omaha and Tulsa. And this summer my fam is HOPEFULLY taking a trip somewhere! I really don't care where, I just want it to GO!
I am so excited and glad for
Natalie at Teachery Tidbits
and her Favorite Fonts Linky Party! She has some of the cutest fonts on her page, and there are about 30 teachers who have linked up! So here are my favorite fonts.
Now go find your favorites and link up!!
The final thing I have for you tonight is a funny story to leave you with! Today I was talking with one of my third graders, and this is how it went. *Remember we are in Tulsa, Oklahoma*
Student: "My dad told me that when its nighttime here, the other side of the world is awake."
Me: "That's right! ..." (I went on to tell her more about how China and Australia etc. was like that.
Student: "So, does that mean North Tulsa is sleeping right now?"
~
Oh it was so great! I'll leave you with that! Now go link up with these bloggers, and look for my Lovely blog winners post soon!!