Happy Friday, all!! Hope you are lovin summer as much as I am! I had a couple babysitting jobs yesterday and we were able to spend some glorious time outside! This year, I've decided that with having to get my diploma and certifications late from summer courses, I'm not going to be able to find a full time teaching job this year (at least for the fall). That being said, I will still be working toward getting ready for a full-time classroom. I will also hopefully be substituting and working a different part-time job. Then, hopefully in January, I will be able to get a full-time teaching job in the spring. After this year, earning some much-needed $$, I will be looking to teach abroad for the 2013-2014 year! So, that's my personal update for the week!
My second item of business for this Friday is to start my own linky party! It is actually going to be an ongoing party on the page of my blog called
Pinning with Friends
! I thought it would be super fun to get all of our pinterest links together and follow each other's FANTASTIC PINspirations! So click over to that page and link up your Pinterest page! I can assure you one thing- you will have at least one new follower (ME!)! And then invite your friends with this fun button!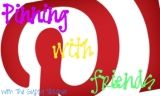 And finally, I am working on a theme for my future classroom (wherever it may be!)! It's called "Around the World in ____ Days!" The blank will of course be how many days are in our school year. I'm pairing this theme with bright, fun colors and lots and lots of chevron! I have a new Pinterest board for all of my inspirations! You can see it HERE. I'll give you a few of my latest pinspirations.
A map (mine would be a world map) where students pinpoint the settings of their books.
(source)
My bright colors inspiration came from this classroom from Schoolgirl Style!
(source)
Check out the rest of this board and my other boards on Pinterest, and make sure you link up to my Pinning with Friends linky party!
Look for my DIY "Learning Destinations" (aka Objectives) boards on Monday!