Happy Wednesday all! Today I'm linking up for the first time with 2 Wednesday parties! The first one is
A lot of you have already linked up with Jamie at Little Daisy May before, but I'm excited to today!
I'm loving that the humidity in the summer air is going down! Yesterday was beautiful!


I'm loving that I have some routine in my summer life-24 Hour Fitness, you are becoming a home away from home, and I'm okay with that!!


I'm loving that I'm almost at 100 followers! WOW!
I'm loving that there is a pool in our backyard right now (it might be small, but at least it's something!)


I'm loving the Hunger Games! It's my go-to read right now while I'm on the stationary bike at the gym!
The second of my linkies I'm partying with today is
I recently discovered the vintage apple, and I love her blog!
my pinterest finds this week:
awesome classroom library resource! source
Fun activity for an artsy classroom moment source
a girl can dream, right!? source
great idea for writing workshop! source
What are you pinteresting and loving this week? Check out my Pinterest boards for all these pins and many more!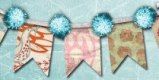 I'm excited, because today I will have a chance to work on my Journal Jar prompts! I posted about this project earlier in the summer
here
. But to do this, I need your help! Don't worry, there will be a reward!
I want to know the craziest, most 'out there' journal writing prompt you would give your students. I'm trying to make these semi-universal for all elementary grade levels, but I'll probably end up making a K-2 version and a 3-6 version. ANYTHING GOES! I want to see that teacher creativity flowing! So, here's the deal!
Leave a comment with your journal jar prompt (remember: THINK OUTSIDE THE BOX!), name, and email, and grade level you teach.
On Sunday night, I will use a number generator to choose 3, that's right, THREE people to win my journal jar prompts set for FREE! I will announce them Monday with my Monday Made It, and then contact you!
I'm SUPER excited to see what comes of this! Tell all your bloggy friends to come and comment, using this fun graphic!
Happy brainstorming!!