Be forewarned! Long post ahead! Don't forget about the two awesome giveaways I've got going right now!
Hey there bloggy buds! How was your Monday? This week is Teacher Week over at Blog Hoppin!
And I wanted to get in on the Must Haves Monday action!
My ultimate must-have is JESUS! HE is the one who gets us through our best of days and worst of days. Without Him, I am nothing. But with Him, we can be the best teachers that our students need!
Next, my iPhone is definitely a must-have! Pictures, Common Core reference, edu. apps, internet access, Pinspirations, music, and more!
Candles and a Candle Warmer is my third must-have. Atmosphere is a HUGE part of my classroom necessities for me and my students, and candles can really help calm the mood! If you aren't allowed to light candles (or even if you are), you can use a candle warmer like this one to melt the wax without the flame! Plus, it conserves your candle for way longer!
Organizational tools is another biggie! I love organizing, and need to have bins, labels, boxes, a planner, schedules, rosters, and everything in its place! Even though I'm not teaching this year/semester, I bought a planner for myself at Target with Birthday Money! They have the best cheap and cute planners!
A great pencil sharpener! And I found one!
PENCILS.
An iconic item that is found in every classroom across the country, and is used every day by students everywhere! Pencils are important, but they are worthless without a pencil sharpener! My question to you is,
"Do you like your pencil sharpener?"
What do you and your students use to sharpen their pencils in your classroom? Do you use the age-old, grimy, mounted ones that are almost impossible to clean? Or maybe you decide to spend some of your precious funds on a nice electric sharpener, that breaks down at least once a week because of over-sharpening and overuse, and constantly gives you a headache? Or are you so fed up with both options, you give each student a pocket sharpener, but end up with pencil shavings all over the room?
To me, none of these are viable options, although each have positive element: the arm crank sharpener has the capacity of sharpening many sizes of pencils, and it doesn't make TOO much noise, the electric sharpener is easy to empty and is relatively quick to use, and the mini sharpeners allow you to sharpen however little or lot you need, and the spread of germs is lessened.
Well, I've found a sharpener that combines ALL of these things, and more! Why? It was made by a teacher for teachers!!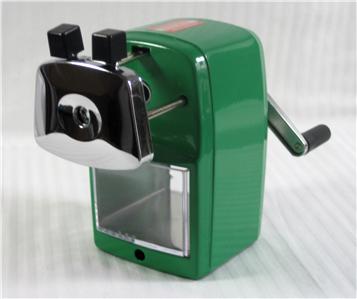 Enter, The Quietest Classroom Pencil Sharpener.
There are TONS of awesome features about this sharpener, but I'm going to start with my FAVORITE.
YOU'RE PENCIL CANNOT BE OVER-SHARPENED!
Yep! I said it! I tried it out, and when the sharpener is done sharpening your pencil, you can keep cranking the arm, but you can tell it doesn't do anything! That means, that student in your class who spends 20 minutes at a time trying to get that PERFECT point, will be done a lot faster when they realize they can't sharpen it any more! This is also great because your pencils won't be wasted! They will last longer!
Here's the thing, though, your sharpener won't come with a handbook! It took some researching to discover how to best use this sharpener. Here's my tutorial for you!
1. Get familiar with your sharpener. Look at the clear box. This is where your pencil shavings fall in. It's great to be able to see when it needs to be emptied! See that hole on the bottom in the front? To stabilize the sharpener, you can fasten it to the edge of a table. Try out the arm crank so smooth and easy! Now look at the top hole in the front. See the teeth? They hold your pencil in place!
2. Insert your pencil. Pull gently on the silver metal piece on the front. You should be able to pull it out a few inches. There is a center metal piece that will keep everything in place. Next, squeeze the two black knobs on top together. Notice how the teeth open! Insert your pencil, while holding the teeth open, as far as it will go. it should go all the way through the opening. Release the teeth, and notice that you no longer have to push in or stabilize your pencil! Release the metal part by lifting up that middle piece.
3. Sharpen! Now turn the arm crank. Feel the pencil being sharpened? if you keep turning it, you should feel the blade no longer hitting the pencil. This means your pencil is sharpened! (Remember! It won't oversharpen your pencil!)
4. Take out pencil and smile! You will take out your pencil just the same way you put it in, but backwards! Pull out metal piece, open the teeth, pull out your pencil, and smile! Why? You have a perfectly sharp pencil!
I love this sharpener! It meets almost all the needs of a basic sharpener in the classroom. It is:
quiet
reliable
easy to use
easy to clean
effective
Though it does the job wonderfully, it does have some negatives:
your pencil will look like Viole
t

Baudelaire (Lemony Snicket Reference :) has gotten to it, as in, it will have little bite marks in it.
It may take more than one time of sharpening to get your pencil sharp. it definitely will if your pencil is brand new.
But overall, I DEFINITELY recommend it! Especially since it's just under $25! Also, if you and two other teachers in your school want to go in on a pack of three together, you will each save $8! What a great deal! Head on over to Classroom Friendly Supplies to get your own must-have pencil sharpener of the year!
Thank you Troy for letting me review your awesome product! These are my own opinions of this pencil sharpener.
Get ready for a fun Monday Made It post tomorrow! You will see clips, tape, clip art, and chevron!