Hi all! I want to get my Blog Swap hoppin!! Instead of just creating a "Fall Swap" or a "Christmas Swap", I'm going to let you and your swapping partner create your own! Here's the theme:
Hostess with the Mostess Blog Swap!!
I love planning and hosting parties, especially during these seasons of autumn and winter! Thanksgiving, Christmas parties, New Years parties, parties in your classroom, etc.! In my mind, you can NEVER have too many parties!! So, for my winter blog swap, I want YOU to link up to the blog hop below, so I can match you up with a bloggy pal. Then, you will receive an email from me with a fun party-themed survey so that your pal can get to know you better, and know what kind of party you want to throw this season. I will then match you up, and you will put together a fun, party-hostess kit for your bloggy pal! Send it off, and receive yours! After you have received your gift, it's time to PARTY!! After being the hostess with the mostess, you get to show off the party kit you received, and the party you threw!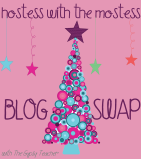 October 18- November 2: sign up, let your blog followers in on this awesome swap, and receive your confirmation email with the survey to fill out.
November 3- 6: the pairings are made.
November 7- December 7: emails go out telling you who you are paired with, and you shop! Find those goodies that will make her party a success! If her party is going to be before December 5, make sure to send her kit beforehand! If not, make sure it gets in the mail by 12/5.
January 7: THE BIG REVEAL! Blog about your bloggy pal, your hostess package, and the FABULOUS holiday party you threw! Make sure to give your pal some LOVE and link your post back to the reveal blog hop I will set up that day!!
*Your budget is $15-20, excluding shipping.
*If you are not the party-hosting type, don't worry! Still link up, and you'll still receive a package of holiday delights!
*Be creative in the party you hostess! It can be anything from your holiday party in your classroom to a murder mystery party with some close friends, or an all-out blowout for the New Year!
I hope you join in on the Season of Giving in this neck of the woods! Please link up, and share on your blog! Grab the button, and please help me get the word out!