1. Name 4 jobs you've had in your life.
~ I started off as a receptionist for my dad's medspa, in high school.
~ When he closed it, I got a job at a local grocery store, and worked there my senior year of high school.
~ I worked as a dorm desk receptionist on my college campus for a couple years.
~ I am now working at Bath and Body Works as a sales associate!
2. Name 4 movies you would watch over and over.
~ Breakfast at Tiffany's
~ Elf
(I had to throw a Christmas one in there :)
~ Father of the Bride (1 and 2)
~ How to Lose a Guy in 10 Days
3. Name 4 places you have lived.
~ I was born in Fort Collins, Colorado.
~ I moved to Fremont, Nebraska when I was 2.
~ I moved to Omaha, Nebraska when I was 4 and currently reside here.
~ I lived in Tulsa, Oklahoma during the 3 years I went to college down there.
4. Name 4 of your favorite foods.
~ Sushi
~ CHOCOLATE (and anything with chocolate in it)
~ Thai food
~ Chicken Caesar Salad
5. Name 4 things you always carry with you.
~ iPhone (it hardly leaves my side)
~ Lip Balm (always in my pocket or purse- I cannot stand dry lips!)
~ Wallet (duh)
~ Sunglasses (HAVE to, I have very sensitive eyes)
6. Name 4 places you have been on vacation.
~
Hawaii
~
Mackinac Island
~ Disney World
~ Colorado (A LOT)- my extended family owns a condo in Frisco (near Veil, Keystone, etc) and we go often. We will actually be heading there right after Christmas this year!
I'm linking up for Sunday Social!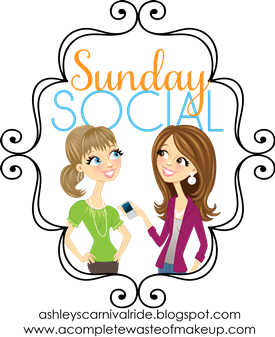 Allie Elliott
Follow @allieelliott