Welcome to the first but Tuesday post of DECEMBER if you can believe that! Sorry I couldn't post last week, but I'm back or another fun prompt! Join in on the fun and link up any and all of your travel posts with me! I love seeing life through your eyes, and sharing it through mine as well. I'm taking a break from my Colombia mini-series for a little prompt to get your wheels turning! If you do link up, grab this button to link back!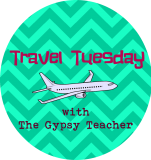 If you haven't seen my Travel Tuesday posts before, read THIS POST for the deets!
Alright, now for December's prompt:
What traveling are you doing for the holidays? (Thanksgiving, Christmas, New Years, etc!)
My response:
I didn't do any traveling for Thanksgiving, everyone came to us. And for Christmas, we will be home until December 26th. Then, my immediate family (mom, dad, brothers, me, and my brother's fiancée) will be headed to Colorado for a little vacation in the mountains! My grandpa and his brother share a condo in Frisco (a small ski town near Copper Mountain, Breckenridge, Veil, etc.) that all the extended family uses. So we get to go up there for about a week to celebrate the holidays! We go there at least once a year or two, and it's just so much fun!
We also love to visit the different ski resorts during the evenings for dinner and entertainment. One tradition is to go to Kickapoo, a lodge-type restaurant in Keystone.
It is seriously one of the most fun, relaxing vacations! The mountains are BREATHTAKING, and it's just great to get away with the family for a few days.
Have you ever vacationed to Colorado? Where is your favorite place to go? Any certain places you love or things you love to do while you're there? Fill me in!

Allie Elliott
Follow @allieelliott