Hello all of you wanderlusters! I hope you're having a wonderful week! I have definitely been wishing and wanting to travel someplace WARM, as it has been cold and windy here the past week or so. I'm SO excited for this Travel Tuesday, as it is NEAR and DEAR to my heart, so let's get started!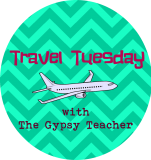 New here? Click the picture to head to the intro post!
With this post, I'm starting my miniseries on my adventure to Togo, West Africa. I went to Togo with a group of 7 other people from my university for a missions trip, during the summer of 2011. This was my second missions trip, and second time out of the country. This trip is where God kindled the love of missions and travel inside me, and I was able to see beyond myself once again. I cannot wait to share more of the missions side of things, as well as about my experiences in the country.
Today, though, will be a little bit different. I thought that I'd share some tips and tricks I learned while traveling to Togo, and share them with you.
To give you an idea of where Togo is located...

via
It is the red country on the map of Africa above. As you can see, it is a teeny tiny country on the bulge of West Africa. It is neighbors to Benin and Ghana, and right below Burkina Faso. To get to the capitol city of Lome, we took a flight from Tulsa, OK to Dallas, TX. Then, from Dallas to NYC. From NYC to Casablanca, Morocco. And from Morocco to Togo! It was a LONG trip, and I definitely was ready to get there!
Now for my tips:
1. Arrive at Your Departing Airport Early
2. Travel Together.
3. Eat when you can (unless you're going to Morocco).
4. Dress Comfortably and in Layers!
5. Keep to a somewhat "normal" schedule.
6. Don't Worry, Be Happy!
And remember, have FUN! The actual travel can be as memorable as the destination, if you make it that way! I hope this was helpful, and gave you a little taste of my travels to Togo! Come back next week for more about my missions trip there!

Allie Elliott
Follow @allieelliott